Current Lab Members
---
Primary Investigator
---
Post Doctoral Fellows



​Carly Sjogren

csjogren@email.unc.edu
​
My research is aimed at understanding a fundamental missing piece of stem cell regulation in plants- how the CLV1 signaling pathway controls plant stem cell development through transcriptional regulation.

Ashley Crook

adcrook@email.unc.edu

My research is focused on potential co-receptors and downstream transcriptional targets to better understand signaling through the BARELY ANY MERISTEM (BAM) receptor kinases. ​

Christian Burr

christian_burr@med.unc.edu

I am focusing on furthering the understanding of meristem development in monocots using rice as a model system. I am especially interested in understanding the effect that cytokinin signaling has on meristem development and function.

Daniel S. Jones

danielsjones@unc.edu

The primary goal of my research is to better understand how stem cell identity is maintained through the receptor pair CLAVATA2 (CLV2) and CORYNE (CRN). CLV2 is a transmembrane leucine-rich repeat (LRR) receptor-like protein that lacks a signaling domain and CRN is a transmembrane pseudokinase. CLV2/CRN function as a heteromer in order to limit the proliferation of stem cells outside of the stem cell niche. Neither CLV2 nor CRN have any known signaling capacity, so how signals are transduced via this receptor pair is currently unknown.

Lior Tal

liortal@email.unc.edu
​
My main goal is to better the understanding of meristem regulation throughout plant development. My research focuses on the identification of novel signaling components involved in shoot apical meristem regulatory pathways.
---
Research Scientists
---
Graduate Students
Sean James
seanj1@live.unc.edu

Through the use of many techniques (including genetics, genome editing, molecular biology, and biochemistry), I am elucidating the function of protein phosphatases and a novel gene in the regulation of stem cell development in Arabidopsis.
​

Amala John

ajohn46@email.unc.edu

My research is focused on better understanding the signaling components of the plant stem cell niche. Receptors and ligands are the primary players that allow stem cells to communicate with each other and I am currently studying the CLV2-CRN receptor complex as well as the CLE peptides that are thought to bind them.

Cara Soyars​
csoyars@live.unc.edu

There are 32 Arabidopsis CLE genes, which are scattered across the genome. Almost all Arabidopsis tissues express at least three CLE genes, by analysis of CLE promoter-driven reporters. However, assessing the biological roles of these small signaling peptide gene families has proven to be a significant challenge, primarily due to a lack of hypomorphic or null alleles. To gain understanding into developmental processes, which are controlled by signal transduction pathways, a functional analysis of members of the CLE polypeptide family is underway.
---
Undergraduate Researchers
---
Former Lab Members
Powered by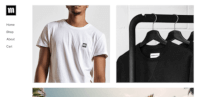 Create your own unique website with customizable templates.